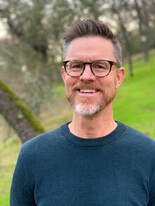 Sean Miller
As Lead Pastor, Sean is passionate about communicating the ancient wisdom of the Scriptures in compelling and practical ways and helping people enter into the story that God is writing—one in which they are a character in the grand narrative and redemptive plan of our creator. Sean believes that the role of a shepherd is a great gift and privilege.
As a leader in pastoral ministry since 1993, Sean has been invested in the art of guiding a faith community, especially its core leaders, toward greater levels of health, connection with God, and love toward others. Over the years, Sean has spent time working with students, families, and executive teams. He is a mentor, consultant, and enthusiast for other leaders and seeks to invest in the emerging generation.
Sean has been married to Holly for 26 years. They both grew up in San Jose and have three children, Mackenzie (23), Michaela (21), and Caden (17). They both love to travel, hike, read, watch movies, and spend time laughing with friends. In his spare time, Sean loves to drink good coffee, run, cycle, take long walks and long naps.
Sean studied Bible and Theology at San Jose Christian College (now William Jessup University) and Transformational Leadership at Bethel Seminary. He has also served as Adjunct Faculty at William Jessup University, teaching The Art of Biblical Interpretation, Discipleship Praxis, and Self-Leadership.