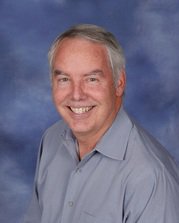 MINISTER OF CHURCH OPERATIONS
Jerry has been a member of SFC since 1972. He has served SFC as a Deacon, Trustee, Elder, Treasurer, Sunday School Teacher and small group leader. Jerry has been on staff since 2001. Prior to joining SFC staff, Jerry's career included being an auditor, controller, treasurer, CFO and consultant at various high tech firms in the area.
In 2015 Jerry obtained a Certificate in Christian Studies from Fuller Theological Seminary and later that year was commissioned by SFC to specialized ministry as the Minister of Church Operations. Jerry has been married to Mary Jane since 1980 and they have three children — Joshua, Shannon and David; with a daughter-in-law Lacey, son-in-law Jordan Williams, and daughter-in-law Giselle. Jerry has a Bachelors Degree in Accounting from CSULB. Jerry enjoys applying his gifts of helps and administration here at SFC.