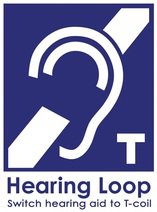 T-Coil Hearing Aid System
Great news for hearing aid users! Both the Sanctuary and the Chapel include T-Coil Hearing Aid systems. In a nutshell, that means if you wear a hearing aid equipped with a T-Coil you will be able to hear sermons in higher fidelity than without. Many hearing aids today have T-coils and you need only to activate it to receive audio from our T-Coil Hearing Aid System – there is no need to remove your hearing aids and use infrared headset to hear sermons.
Do I have an embedded T-Coil in my hearing aid?
Chances are you do. To make sure, contact your audiologist. If you have a switch on the back of your device, it may be a T-Coil switch.
How do i use the T-coil?
Considering you have an embedded T-Coil, it is as simple as flipping the switch on each device to activate. This action will switch your audio reception from normal microphone use to the T-Coil. This will enable you to hear the audio being feed by our T-Coil system. When the church service has completed, flip the switch back for normal hearing aid operation.